I have served in the Army for eleven years. For the past six, I've been serving on the United States Army parachute team, the Golden Knights, as a tandem instructor and videographer. By means of my parachute demonstrations for the Army, I've been fortunate to connect with veterans all over the country. Through these encounters, I've found that vets light up when meeting other vets — and that makes a lot of sense. It's knowing you have a shared experience. It's someone else who gets it. It's someone who is relatable. We can talk for hours about old assignments, deployments, and schools or training. Often times it's an instant friendship and these men and women join us as we pack our parachutes for the next jump.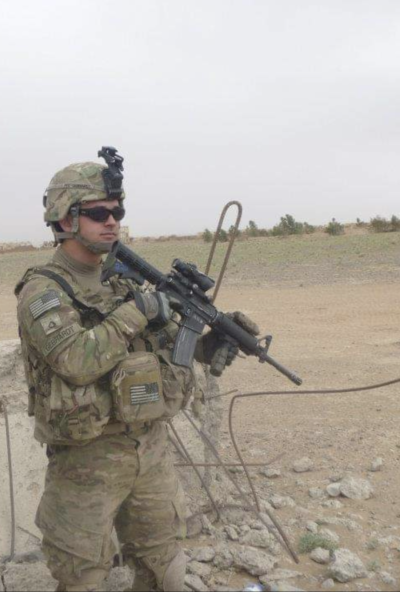 Of course, it's not always just veterans who appreciate a kindred spirit. Sometimes it's active duty, pre-deployment, or post-deployment. Sometimes it's even police, EMS, or firefighters, past or present. I really like making those connections and seeing the smiles on their faces.
Air sports, including skydiving for the Golden Knights or BASE jumping, have given me the camaraderie and sense of control that I was struggling to find upon returning from Afghanistan. I continue to be surprised and comforted by how similar the social aspects of deployment and air sports truly are. The experiences can both best be described simply as rad people doing scary stuff with an emphasis on personal safety.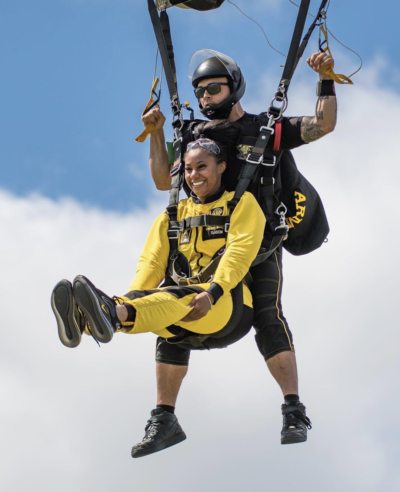 22 Jumps came into my life last year unexpectedly but most welcomed. (I actually started as a fanboy!) A 22 Jumps sponsor, Apex BASE, shared a 22 Jumps post on Facebook, and I started following Tristan and the 22 Jumps page. I was amazed by what Tristan was doing. His story is just incredible. He inspired me to donate, and I planned to attend an earlier event, but my schedule didn't allow it. However, I happened to cross paths with Tristan anyway and introduced myself. We kept in contact, and I was honored he would ask me to be a part of 22 Jumps — whatever we can do to raise money for traumatic brain injury research and raise awareness. As active-duty military, we're conditioned to "tough it out" and "brush it off" in order to get through certain situations, but no one teaches us how to turn that off. That's why we need to talk about how it's okay to get help, and how your fellow veterans — and thousands of others — are dealing with the same struggles.